(Last Updated On: May 30, 2018)
EPUB is an extensively used file type for reading eBooks on diversified devices. EPUB file brings you comfortable reading experience due to its fixed layout. But everything has two sides. When you want to print the eBook with the extension .epub, you find that there is no print option for it. The best solution to address this issue is converting EPUB to PDF. PDF can be easily printed out in the way you wish. Plus, what PDF looks on the screen is what you get on the paper. Lots of software programs are available over the internet, which promise high-quality conversions. But some do a bad job, messing up layout and mangling text. So, we tested as many online tools as possible and selected 10 best online EPUB to PDF converters. In this article, I am going to take you through them one after another.
#1: Convert.Files
Convert.Files is an all-inclusive file converter handling a wide range of formats. The input and output files range from video and audio to documents, ebooks, and images. Choose a local file or enter an URL. If you upload your file through the file browser, the output format box will populate in the correct formats. Then, you can check the box to have the download link emailed to you or just click on "Convert". When the conversion is completed, go to the download page and hit the link to obtain your new file. The only downside is that the interface is not clean and filled with ads.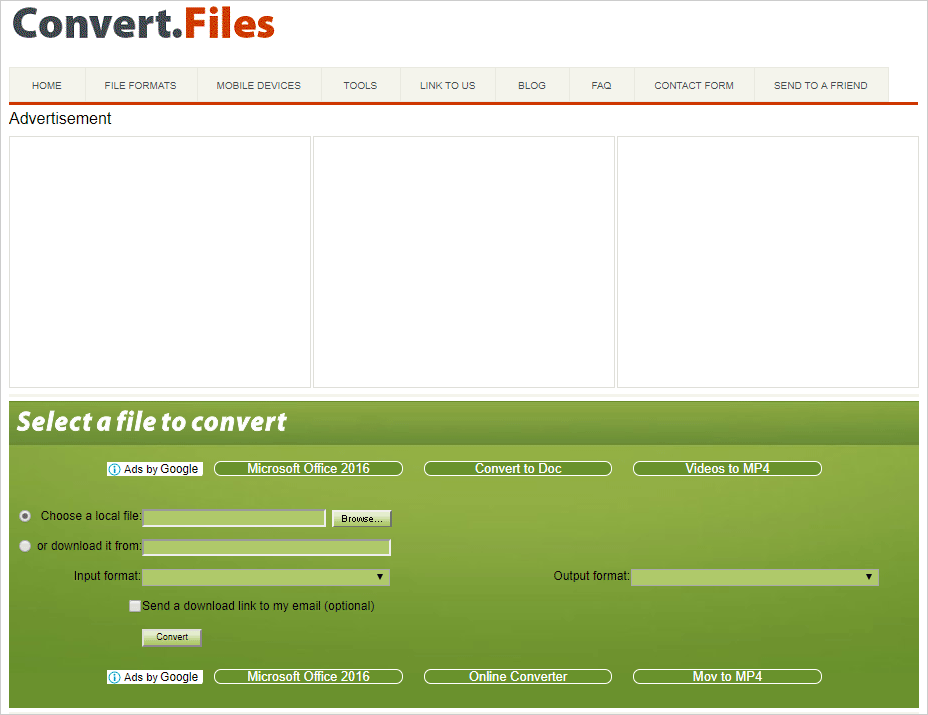 #2: PDFConvertFree.com
PDFConvertFree.com is a web-based PDF converter that enables you to batch convert up to 5 EPUB files to PDFs. It is completely free for use without hidden fees. Another merit of this tool is that you don't have to create an account to get access to the service. As it claims, all your files will be cleared within 15 minutes after they are uploaded to the server.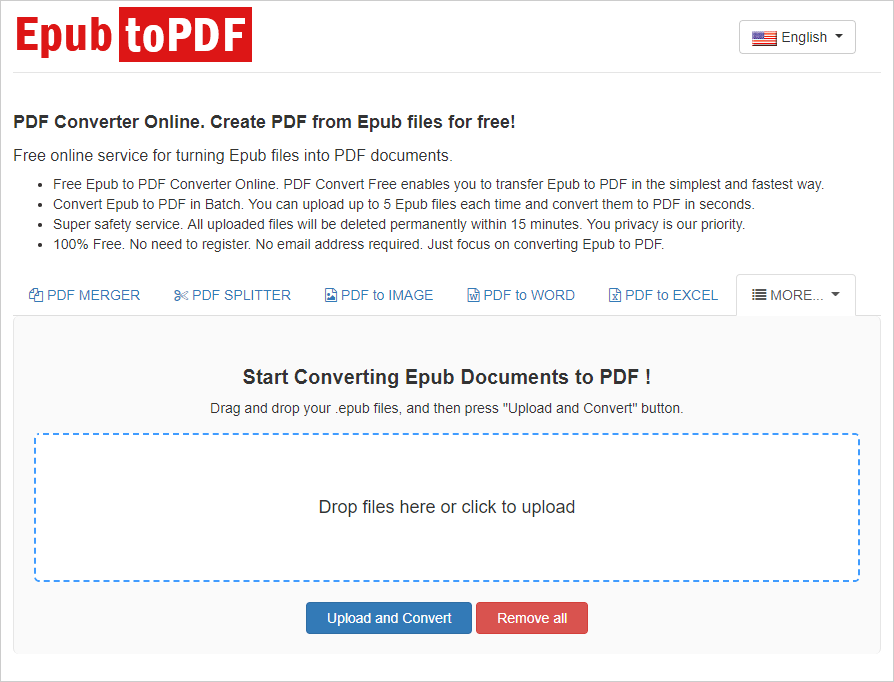 #3: PDFCandy
PDFCandy is an almighty PDF editor that provides users with advanced settings for EPUB to PDF conversion. You can set parameters with regards to the margin in pixels and page format for the converted PDF files. No subscription is required since this online software application is totally free to use.
Add an EUPB file by using the "Add file" button or drag-n-drop method.

Customize the margin value and output page format.

Press the "Convert to PDF" button to start the process.

When it is done, download the exported PDF file.

#4: EPUB Converter
EPUB Converter is a free online tool to assist you to convert eBook file from EPUB to MOBI, EPUB to PDF, MOBI to EPUB, and so on. Two steps are all it takes to change the EUBP to PDF. Simply click on "Add File" to choose the file to convert and hit the "Start Upload" button. The conversion begins immediately and finishes in seconds. The download address of the resultant file will be displayed. You have two hours to download the PDF. After the expiration period, the PDF will be deleted automatically from the server.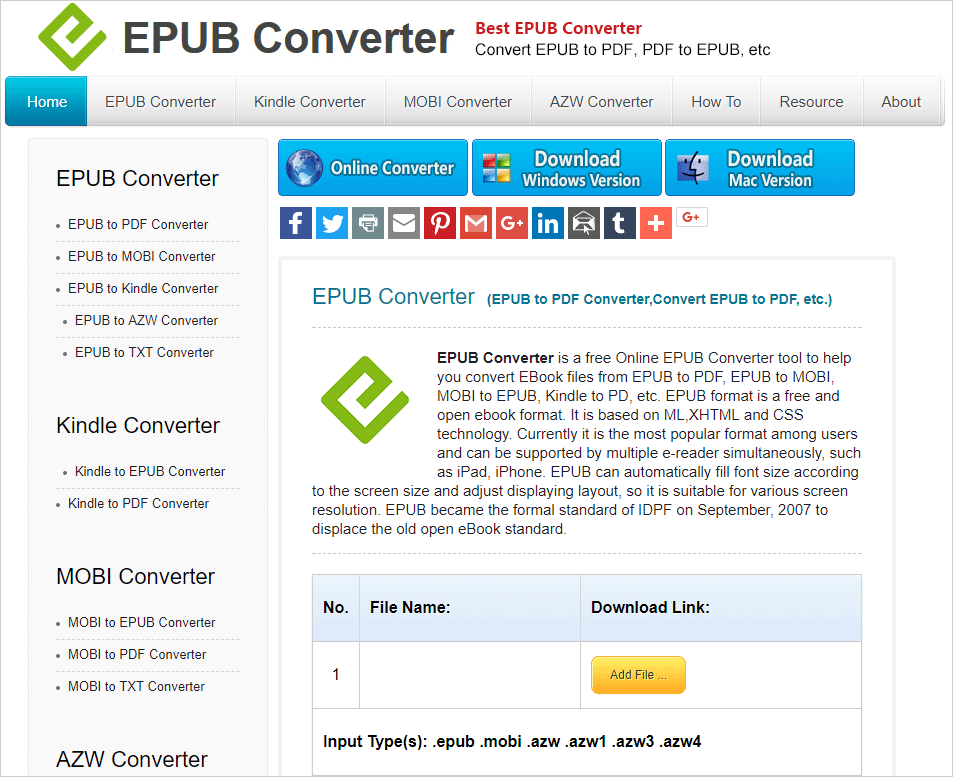 #5: Online-Convert
Online-Convert comes with a collection of different file converters. The eBook converter accepts a variety of conversion types such as TXT to PDF, EPUB to PDF, MOBI to PDF, HTML to PDF. Browse for your EPUB file, submit a URL or upload a file from cloud storage services. Then you can configure optional settings. Choose target eReader to optimize PDF for the size of your device, embed a font in PDF, add a border, just to name a few. Finally, click on "Convert file". When it is finished, a PDF will be downloaded through your web browser.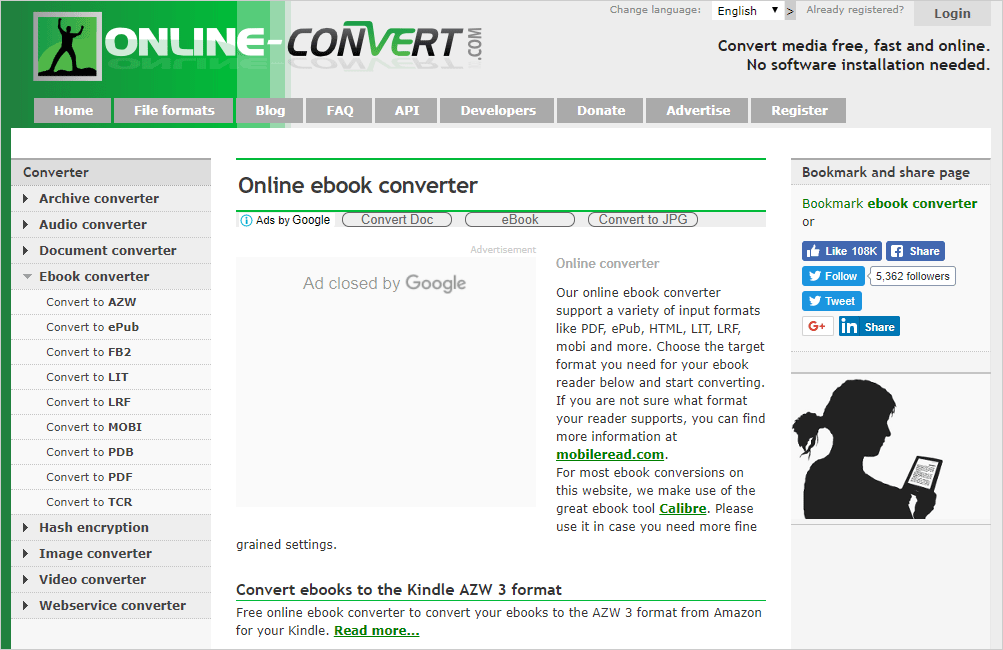 #6: eBook2PDF
eBook2PDF is an easy-to-use web app with a self-explanatory name. It enables you to create PDF from EPUB, MOBI, AZW, and FB2. It supports mass conversion and allows files of up to 50MB in size. Just drag and drop 20 EPUB files on to the target area to start uploading and converting. Wait for the conversion process to complete and save files to local one by one or in a ZIP archive.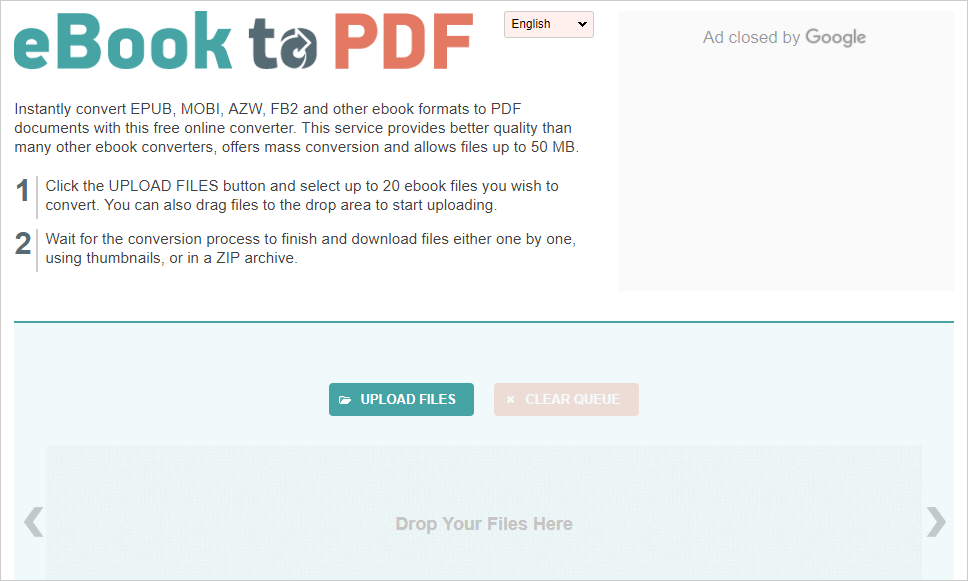 #7: go4epub
go4epub is a browser-based tool you can use to convert EPUB file to a PDF without hassle. One thing worth being mentioned is that you can define the base font size, margin, and paper size of the output PDF. No restriction on the file size of EPUB file. No sign-up is required. The conversion is super fast and usually takes a few seconds. Go4epub respects your privacy so all files will be erased from its server as soon as the conversion succeeds.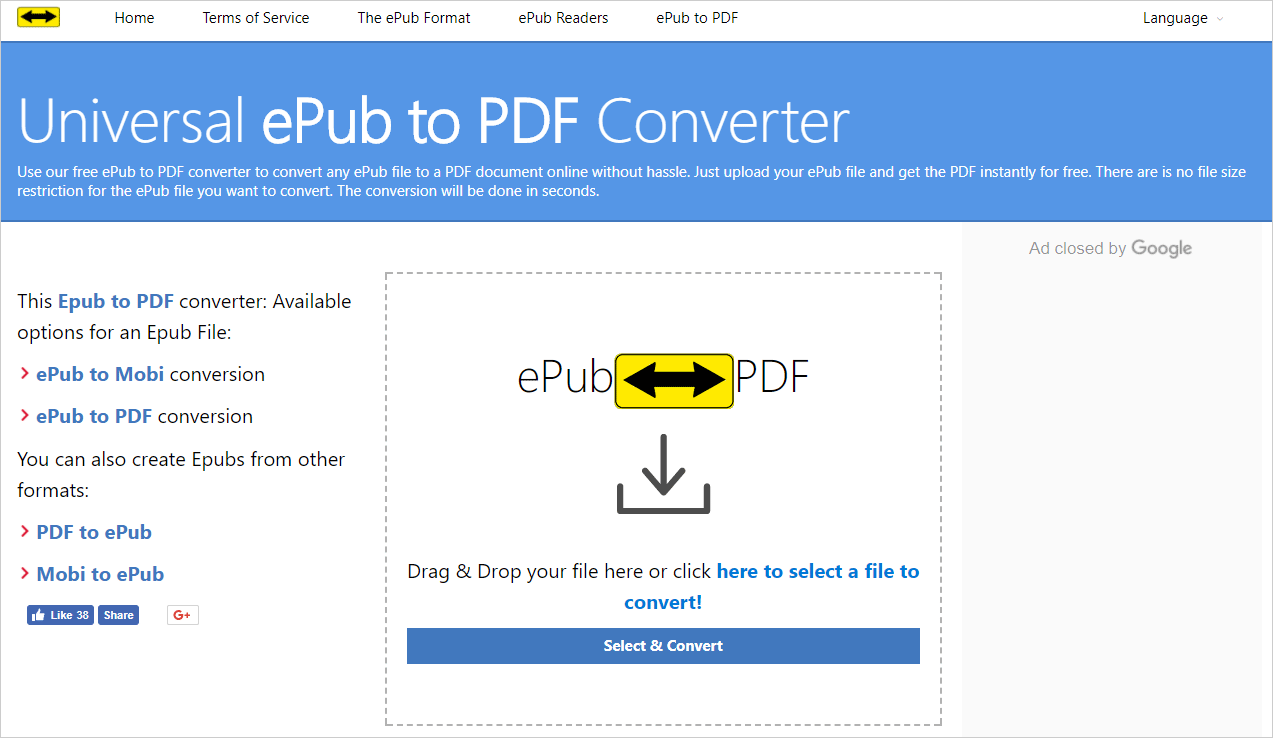 #8: Zamzar
Zamzar makes it simple to turn EPUB into PDF as the process ends after 4 steps. Choose the source file using the browser button or import it with the help of drag-n-drop. Select PDF as the target format in the drop-down box. Provide an email address to receive the converted file. Then, click on the "Convert" button. Batch processing is possible and the max file upload size is 100MB.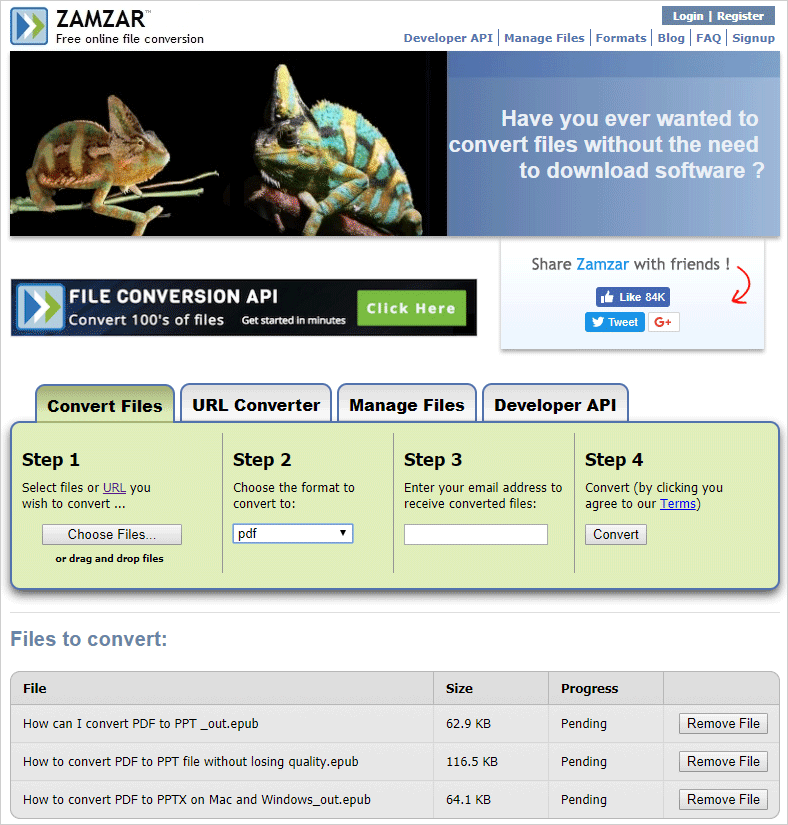 #9: FreeFileConvert
FreeFileConvert is another EPUB to PDF converter online. Up to 5 files can be converted at the same time. Interestingly, the output file box will adjust automatically with suggested formats according to the type of your input file. A robust server engine guarantees smooth and fast conversion. As the title implies, FreeFileConvert supplies a free service for converting files that doesn't ask for the email address or other personal information.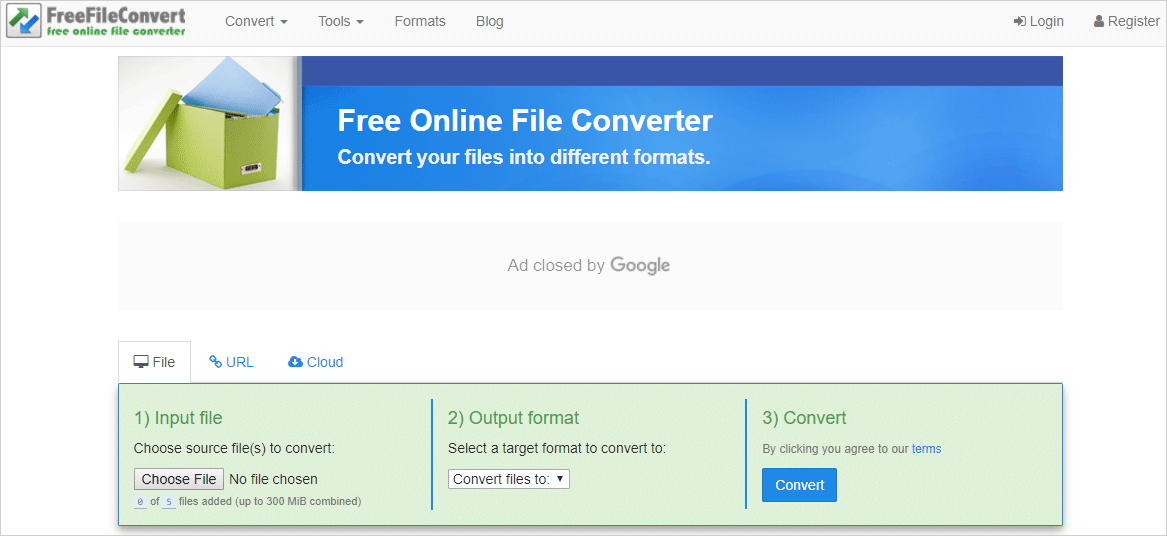 #10: Convertio
For another service to transform EPUB to PDF, take a look at Convertio. It lets you bulk convert multiple files with one button click. Add EPUB files from computer, Google Drive, Dropbox, or by URLs, choose PDF as a resulting format and hit the "Convert" button. You can expect a fluid conversion and exported files with well-preserved formatting.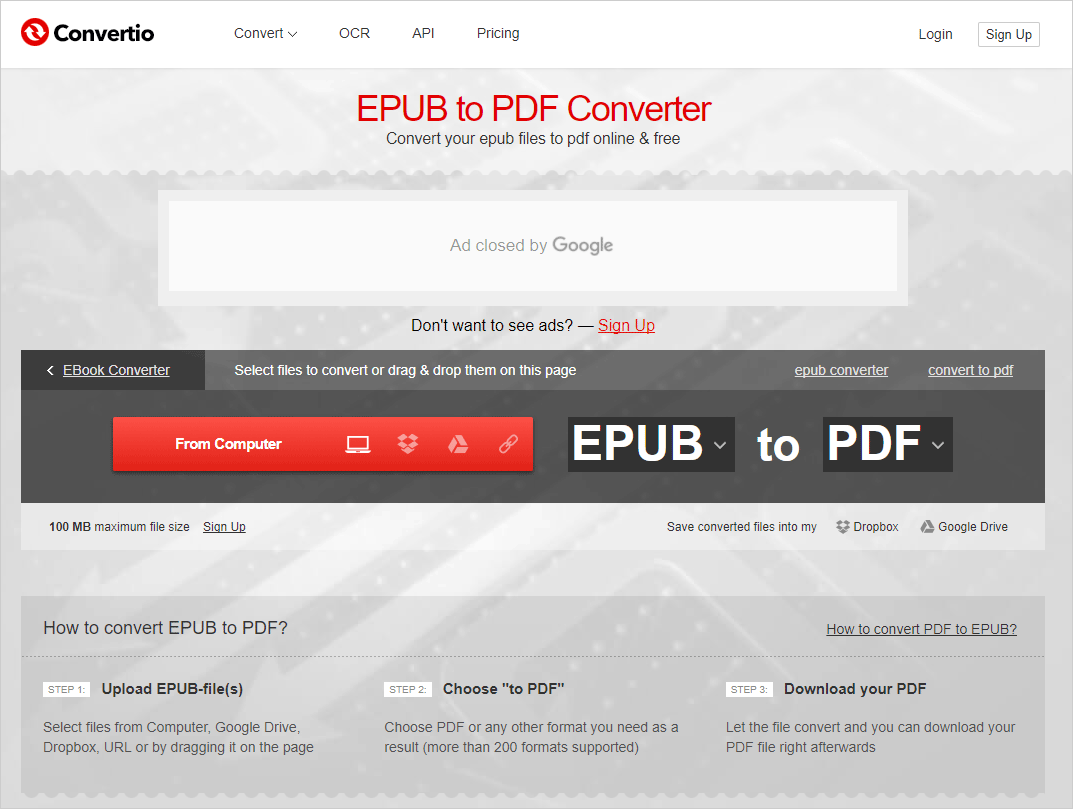 This guide lists top 10 pieces of EPUB to PDF converter software online. All of them carry out the task effectively and produce good results. Pick one from them and give it a try when your need to convert EPUB to PDF arises. Let me know which one you prefer in the comments below!