(Last Updated On: April 10, 2018)
There are some occasions we need to merge a bunch of PDF files into single one. At this point, to cast off these clumsy files, we better apply specialized PDF merge software to shape up a concise file. But it's dizzying trying to screen out the best free PDF Merger from numerous applications. Therefore, here we nominate you Top 6 best PDF merge tools that help you combine multiple files into one PDF file with ease and efficiency.
1.PDF Element    
PDF Element is a flexible PDF merger that supports you to merge unlimited files into one PDF, no matter the original files are PDF or not. For a great part of users, it is unnecessary to turn each file to PDF at first and then start the merge conversion. Just drag and drop all the files in different formats and combine them into one PDF file with this tool.
Firstly, you need to install it and add all files you wish to merge through drag & drop. Set the merge options as your wish. Finally, click the "merge" button.You will see the merged PDF file in seconds.
It should be highlighted that PDF Element also supports you directly merge encrypted PDF files into one without requiring the password. Furthermore, you can customize the properties of your PDF files, such as title, subject, author, and keywords. After all, you can set a password for the merged file to assure its high security.
As a flagship product for PDF management, PDF Element is a full-energy application that packs various functions. Such as edit, convert, annotate, protect, sign and fill PDF files.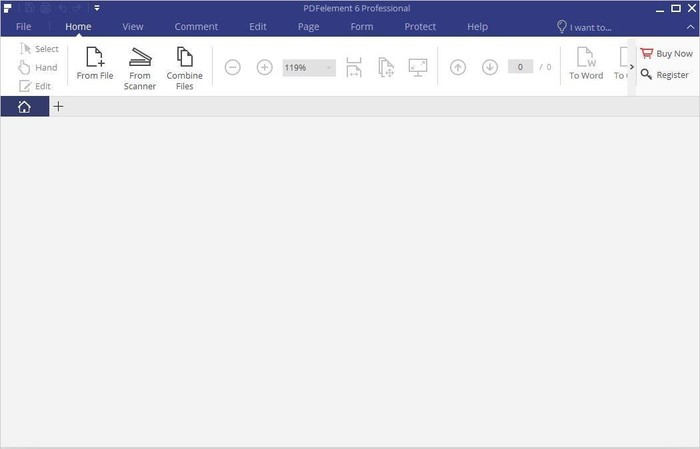 2.pdfmergefree.com
If you don't want to download any program on your laptop, this online program pdfmergefree would be a better choice. It provides you an effortless way to merge multiple PDF files into one 100% free online. This neat software provides high quality results to the merged PDF. What's more, it assures high privacy for your uploaded files, which will be deleted within 15 minutes permanently.
No need to install or register anything, simply drag and drop your PDF files in an order. Then, click "Upload and Merge" button to start the PDF merging process online. Waiting for seconds till a download link comes out. Hit it to get your merged file on the laptop without any hassles.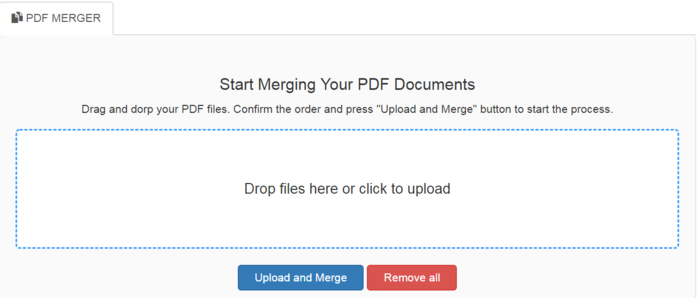 3. PDF Merge Pro
PDF Merge Pro comes packed with a concise and intuitive interface. It delivers powerful and professional features to transform your PDF documents into one.
This PDF merge tool suits all your requirements when combing PDFs into one. Robust engine ensures its rocket speed in merging hundreds of PDF files. Also, you can control the pages of each PDF file to be merged by configuring page range. Moreover, you can freely change the position of each file and put them in an order as your preference.
Ready to start merging your PDFs? Launch it and add files. Set page numbers of each PDF in "Selected Pages" cell. Left blank if you want to combine the whole PDF file. Rearrange the order if necessary. Finally, click merge to start the process.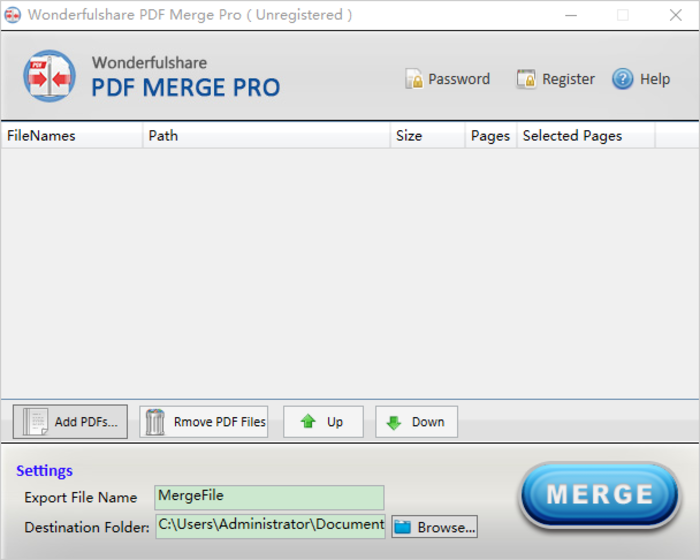 4. PDFSam
The name of this program "Sam" is an abbreviation for "split and merge". With the use of PDFsam Basic, you can split and merge your files conveniently and at ease. It's a great help when you need to reorganize multiple pages from different PDF files. You can merge inputted PDF files completely or partially by specifying the page number or bookmarks.
Turn to Merge function, you can manipulate your files in various ways, such as normalizing page sizes, adding footers to merged files, as well as handling your bookmarks.
Besides, if you accidentally scanned a document upside down, PDFsam Basic can help you rotate pages with a simple click. At the same time, you can create a catalog at the beginning of output PDF files, then you can easily turn to the specified part in merged PDF files.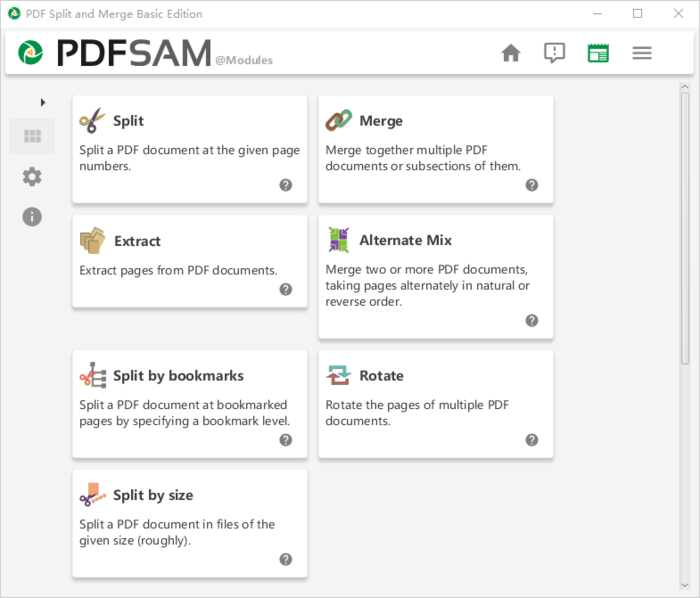 5. PDFMate
PDFMate is one of the most highly recommended PDF tools for its modern-looking interface and precise effects. As an all in one PDF merge & split tool, it supports you to merge and reorder pages all in one go. The best quality of output files can also be retained.
To merge PDFs with PDFMate, you can follow the simple steps.
Drag and drop PDF files;

Click merger setting to set configurations;

Click "Convert" button in the right bottom corner.
This program also possesses OCR plugin. It shows an important role when you are in need of converting scanned files into an editable and searchable one. Plus, it supports you to encrypt, rotate, and add a background to output files. In a word, it's very handy and ease to use.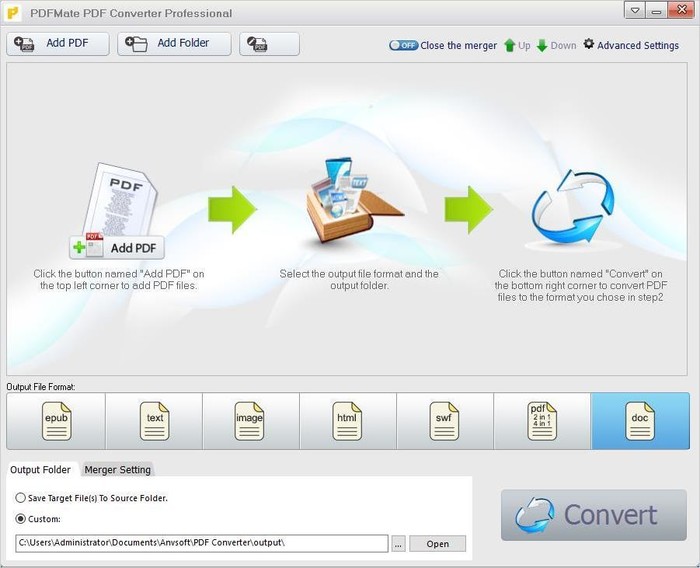 6. ilovepdf.com
ilovepdf.com is an online site that outstands its rivals within various online merge tools. With this free tool, you can complete merging process in a simple and straightforward way. This site can also achieve your other needs like compression, protection and so on.
You can achieve merging simply by following the steps that site presents. Access merge function section, upload the files you plan to merge one by one or in batch mode. Rearrange the files in proper order. Then the 'Merge PDF' button occurs, click it and you can get the output PDF file swiftly.
The manipulation panel is concise and clear, all you need to do is clicking the button. What's more, your hardware space is saved as all conversion processes are completed online. It can fulfill all your needs in practice. Consequently, it's a great option if you don't wish to download a new app on your laptop.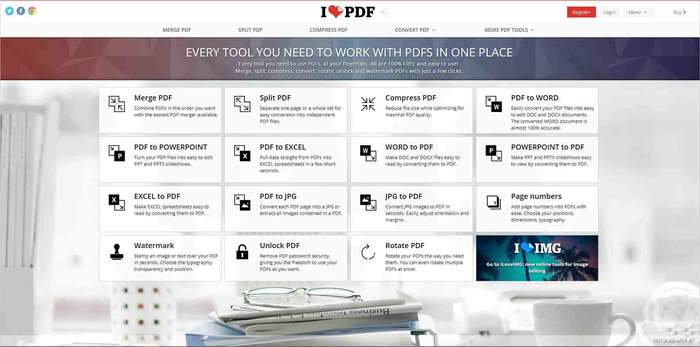 In conclusion
After a brief overview of these wonderful PDF merge tools, I guess there would be one that attracts you most. Pick one that basically suits all your requirements and have a try now. Once you master the use of it, managing PDF file will be a breeze. This program will be a great partner to support you to reduce your workloads and improve your efficiency.