Special memories are made every day. They are captured forever in pictures and selfies. Why should they not be shared with family and friends? With high definition image files are getting bigger and bigger. The best pictures can't always be shared because they are too big to be emailed or sent electronically as they are. The solution is to change them to a format that is universal and worldwide – PDF. Pick out the best or a series of images and convert them to PDF format. Then send them out or include them in other projects like a book of memorable moments. Sound good? Let's look at some tools that create PDF from multiple images.
SmallPDF.

Use Smallpdf.com to convert JPG files into PDF. Drag your images to the download box. Add images in the order desired. Or move them around after dragging. Adjust page size, image orientation, and margin width before clicking on the Create PDF Now button. After a few minutes, download the file to your local computer or add to Dropbox or Google drive. SmallPDF is great for small jobs and small images. Processing is quick generating one PDF file with all your images inside. Keep in mind that larger images or a job with many large images can cause delays because it is a web-based service.
SodaPDF.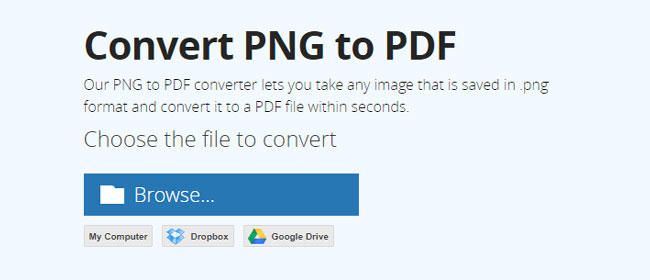 For those needing a simple, no-frills tool, try SodaPDF's image to PDF converter free download service. Click on the Browse button. Choose one image at a time. PDF generation begins immediately. In the next window, click on the Download button. Your file is automatically downloaded to your computer. Files are deleted from SodaPDF servers after 24 hours. If you are not concerned about privacy and security leaving your files outside of your control, SodaPDF is a good choice.
Convert-my-image.com.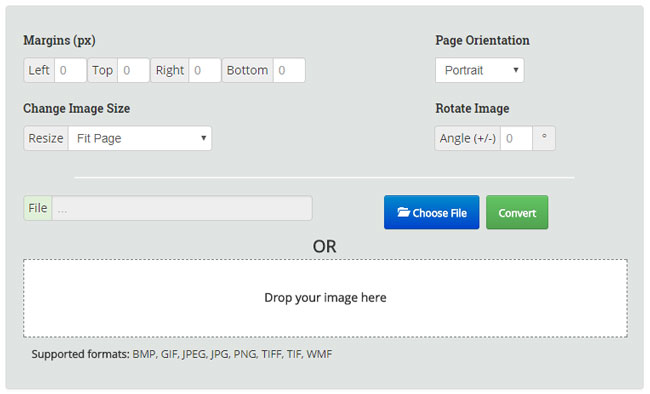 Convert-my-image.com can convert JPG to PDF online free. Adjust page margins and page orientation Choose to display images to fit the page, to fill the entire page or to use the original sizes. You can choose to upload one file or more simultaneously. After clicking on Convert, a progress bar is displayed. Downloads are automatic. It may take several minutes to complete. All files are deleted after processing. Each image file results in one PDF file. Images are not combined into a single PDF file.
ImagetoPDF Converter for Windows.
Power users will need more features and capabilities than what an online tool can provide. Create PDF from multiple images with ImagetoPDF Converter for Windows. This free software combines ease of use with business-level performance. There is no limit to the number of files or their sizes. You can use a variety of formats – JPG, PNG or BMP.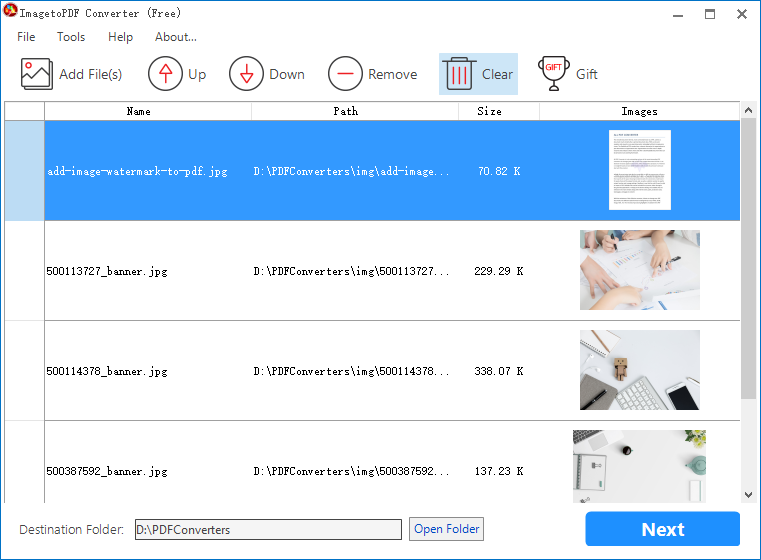 ImagetoPDF Converter does it all with no assistance from other costly software like Adobe Photoshop. You can run ImagetoPDF Converter on Windows 7, 8 or 10 operating systems. The interface supports English, French, Italian, Chinese, Spanish and German. There are no security worries because all processing is done on your computer. Plus, the program is guaranteed to be 100% virus-free.
To start, drag one or more graphic files into the main window. Thumbnail images will be displayed to show you a preview of each image. Make certain that the images are arranged just the way you want by using the Up and Down arrows. Click the Next button. Various options are presented. You can accept the default settings or choose your own page size and image orientation. Lastly, choose to print each image individually or all in one PDF file. Click Next to complete the task.

JPG To PDF Converter for Mac.
For Mac users who need to combine JPG files into PDF, take a look at JPG To PDF Converter for Mac. After installation, drag and drop your images. Rearrange using the arrows or drag the files around. Click on Convert Now to start conversion. It supports most digital image formats – JPG, BMP, TIFF, PNG, and GIF. Output quality is acceptable. JPG To PDF Converter for Mac is a reliable and free application for home, education, and business uses.
Conclusion.
Don't lose your unique memories. Have them available for viewing next year or next decade by converting them to PDF format. PDF files are much smaller than image files. After conversion, you'll have more room to add even more photos and artwork. ImagetoPDF Converter for Windows can combine JPG files into PDF protecting all your precious moments. You can create ebooks to send to family and friends. Or create a slideshow using your PDF-formatted files that you can show at parties or to celebrate a special event. Start preserving memories today.