Sometimes, when it comes to sharing Word files with others, you may find it necessary to save word document as image file. Image format limits text manipulation to make your data more secure. Text in Word can beea copied, pasted and edited. But image greatly prevents the text from editing and searching. Plus, compared to Word, image is more mobile-device friendly. People can access JPG, PNG with preinstalled image viewer on smartphones. But Word files require special apps to open like WPS, Document Manager. To convert Word to image, we need the help from some software tools. Finding an appropriate one is not an easy task. So, this article will introduce 3 wonderful online converters and show you how to convert Word to image file using them.
1. Pdfaidcom.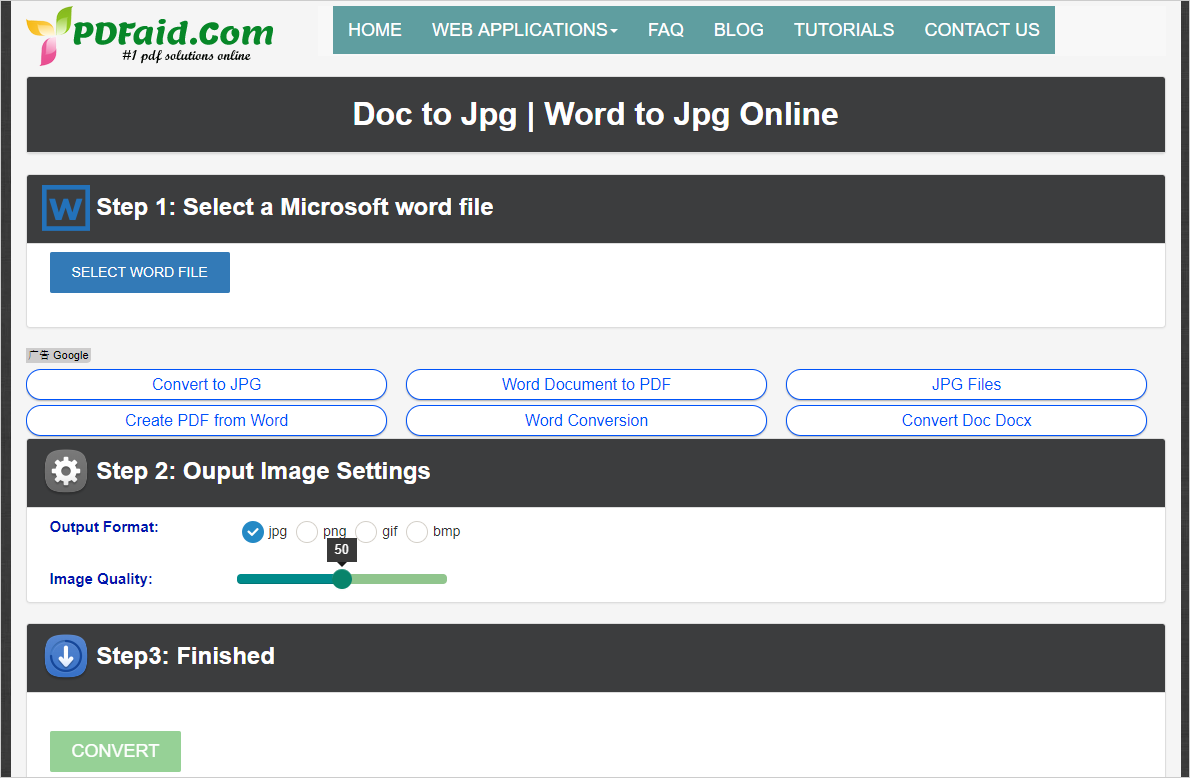 Pdfaid.com is a free web tool that you can use to output JPG, PNG, BMP and GIF from Word on any browser. Both DOC and DOCX input formats are supported. This Word to image converter turns each page of the word file into an image. All exported image files are packaged into a zip file for downloading. You can adjust the image quality for output file when JPG is chosen as the output format. The whole operation are only four steps.
1. Click on "SELECT WORD FILE" to upload word file.
2. Choose output format.
3. Set output image quality if output file type is JPG.
4. Press "CONVERT" to start the conversion.
Download the zip file when the conversion is finished.
2. Wordtojpeg.com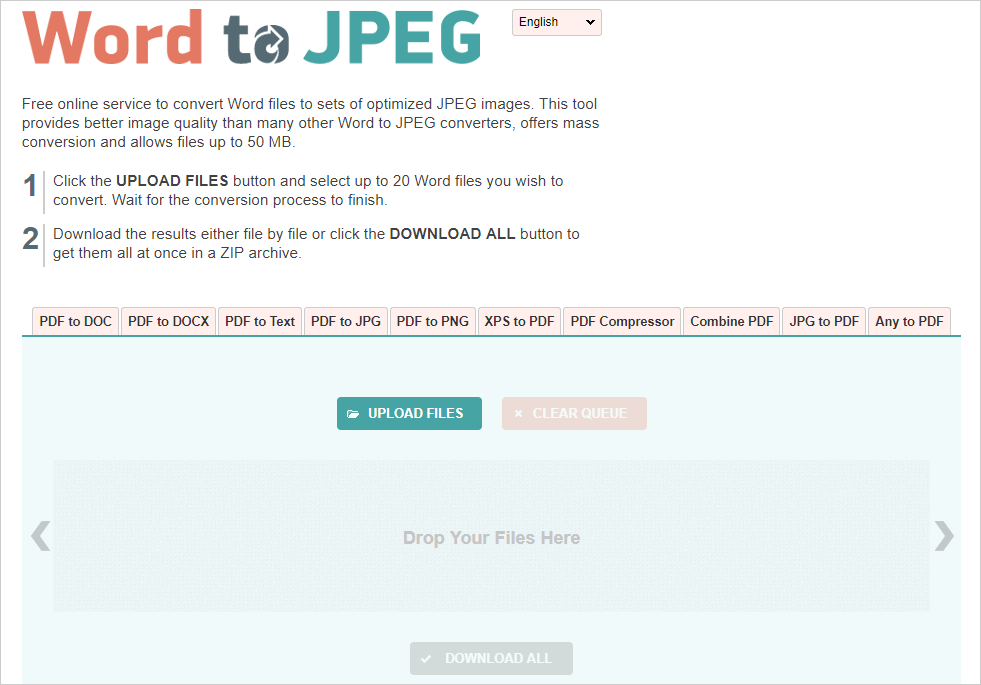 Wordtojpeg.com is a simple-to-use service to convert Word file to JPG online free. A common downside of many online converters is that you have to convert the file one by one. But this application offers mass conversion for up to 20 Word documents. The maximum size of all uploaded files can reach to 50 MB. The conversion begins as soon as Word files are imported through file browser or drag and drop functionality. You can download the resulted items separately or all converted items together with one click. The operation process only requires a few button presses.
1. Click on "UPLOAD FILES" button to upload the Word file.
Or drag and drop Word files onto target space.
Once files uploaded, the conversion begins at once.
2. Click on the download button to download zip files file by file.
Or click on "DOWNLOAD All" to download one zip archive.
3. Docsoso.com.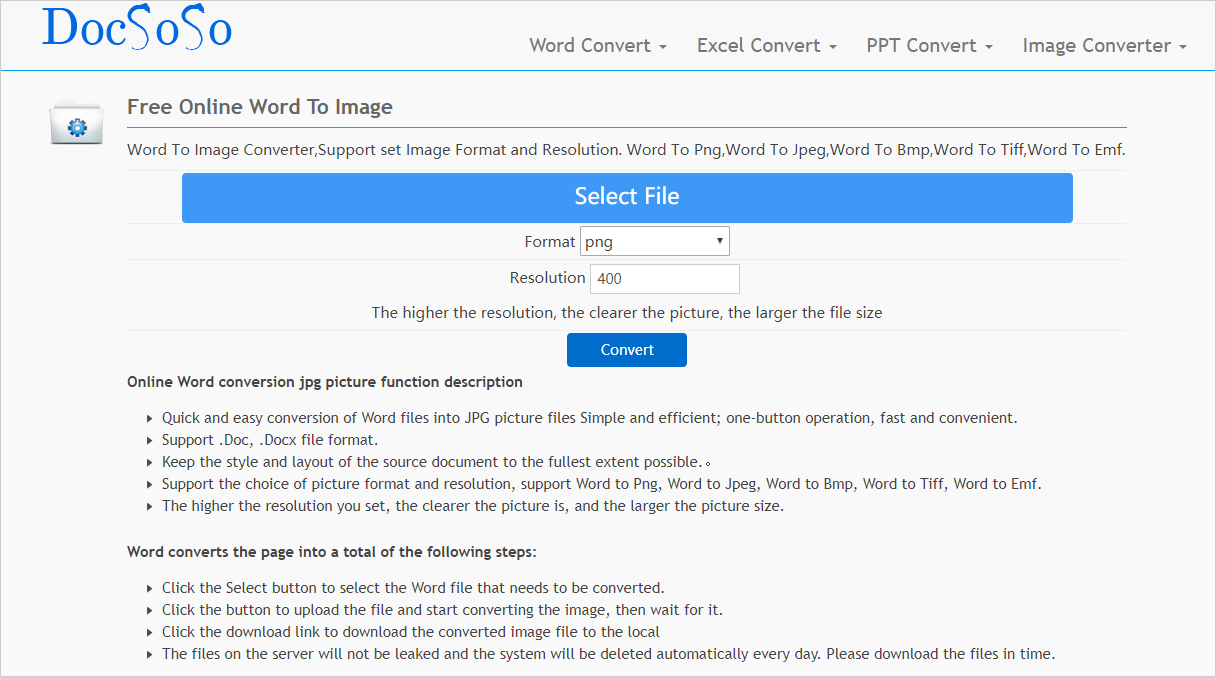 Docsoso.com is a Word document to image converter online. It converts Word to PNG, JPG, BMP, TIFF, EMF quickly and easily. It keeps the layout and style of original document to the utmost extent possible. It enables you to set the resolution of generated images at your disposal. The higher resolution results in clearer image and larger image size. To protect user data from being leaked, converted files on its server will be auto deleted every day. This web converter is totally free for use.
1. Click "Select File" to choose the Word file and open it.
2. Choose the image format and define the image resolution.
3. Press "Convert" to start the conversion.
4. Press "Download File" to download converted images to the local drive.
These freeware utilities can apply to Word conversion in home, office or at school. The conversion process takes only seconds. By offering the easiest ways to turn Word to image, they would help you a lot on document exchange.