(Last Updated On: March 7, 2018)
Adding hyperlinks to PDF can direct visitors to a website instantly. They refer readers to more information outside PDF, which improves the reading experience. But you may find yourself needing to wipe off embedded hyperlinks in some scenarios. Your file has a clickable link to a destination where the content is obsolete. The PDF contains links to a site which no longer exists. Some web links in your PDF file are broken and do not work. If you haven't thought up ways to delete PDF hyperlinks, I'd like to introduce two tools to help you get the job done. In this article, we will discuss how to remove hyperlinks from PDF with Adobe Acrobat and PDF Link Editor.
Adobe Acrobat.
Adobe Acrobat is an industry-standard PDF tool that provides capabilities to edit PDF in an all-around way. This product makes it easy to create hyperlinks in PDF files. At the same time, erasing hyperlinks is also a simple process. Acrobat allows you to delete specific links and offers the batch action to get rid of all links as well.
How to remove hyperlink in PDF with Adobe Acrobat.
Remove certain hyperlinks.
Open the PDF with Acrobat.

Go to the right-hand pane and select "Edit PDF".

Go to "Link">"Add or Edit" on the "Edit PDF" toolbar.

The linked text will be outlined with a rectangle.

Right-click on the link rectangle and choose "Edit">"Delete".

Go to "File">"Save" to save the changes.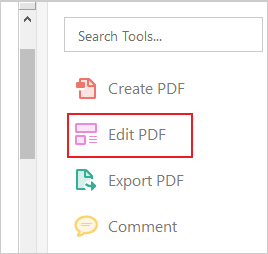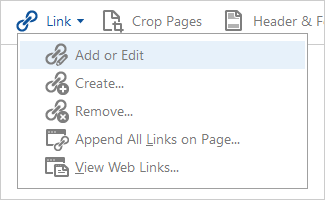 Remove all hyperlinks in batch.
Open the PDF file in Acrobat.

Choose "Edit PDF" in the right sidebar.

Go to "Link">"Remove".

Click on the "Yes" button on the prompt dialog.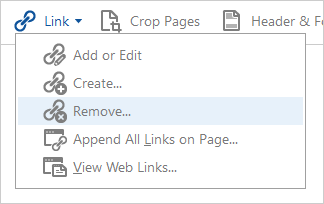 PDF Link Editor.
PDF Link Editor is a free piece of software designed to edit PDF hyperlinks in a smart way. Due to the built-in search capability, it automatically detects and shows all existing links once you add a PDF file. The links along with their anchors are displayed in a list for you to check each of them. You can preview the PDF in the right-side panel so there is no need to open the PDF in another program. PDF Link Editor is an easy-to-use tool, which any user can use without problems. Its features are as followed.

Batch replace or add vast numbers of links with one click.

Clear or extract all hyperlinks in no time.

This program sports an intuitive graphical interface.

It is a compact tool that requires less than 30MB of disk space.

Work as a standalone application without any Adobe products or plugins installed.
How to remove all PDF hyperlinks with PDF Link Editor.
Add PDF to the program by clicking on "Add PDF".

Press the "Clear Links" button to bring forth a pop-up window.

Choose a destination folder to produce a new PDF with no links.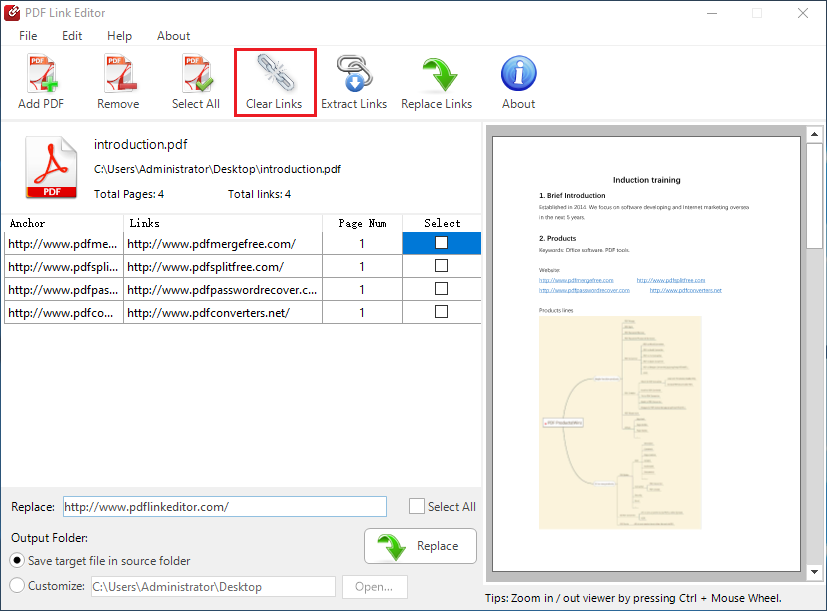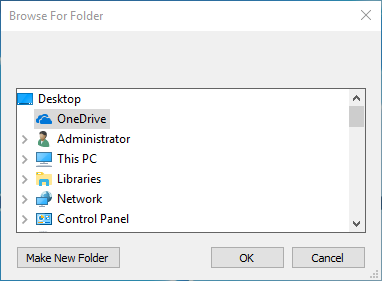 Both Adobe Acrobat and PDF Link Editor are efficient tools to strip useless hyperlinks from a PDF document. Needless to say, only after subscribing Acrobat can you access the link editing feature. So, if your purpose is to eliminate hyperlinks altogether, PDF Link Editor is a much better choice since it's totally free for use. Do you know any other handy tools to remove hyperlinks inside PDFs? If so, let me know.