Picture albums can hold a lifetime of memories but they're not easy to share online. You can scan each photo and collect all the individual files into one folder. It's efficient but still not very portable. The solution is an image to PDF merger. A converter that handles a folder full of images is a handy tool. A hobbyist can merge JPG to PDF albums. A professional photographer can create polished PDF portfolios quickly. Let's look at two options for anyone who needs to join images into PDF.
ImagetoPDF Converter is designed with capabilities to please both casual and business users. This free-to-use software supports multiple image formats like PNG, JPG, and BMP. Use the largest or most complex images with no loss of quality after PDF conversion. The resulting PDF file is small enough to be emailed or stored on a portable device. Viewing and printing any image will be clear and of high quality. The join images into PDF conversion is speedy because processing is done on your system. There are no delays or interruptions of service. All of your content remains on your desktop or laptop. Best of all, there is no need for additional commercial applications like Adobe Photoshop which can be expensive and complicated. ImagetoPDF Converter is compatible with Windows 7, 8 and 10.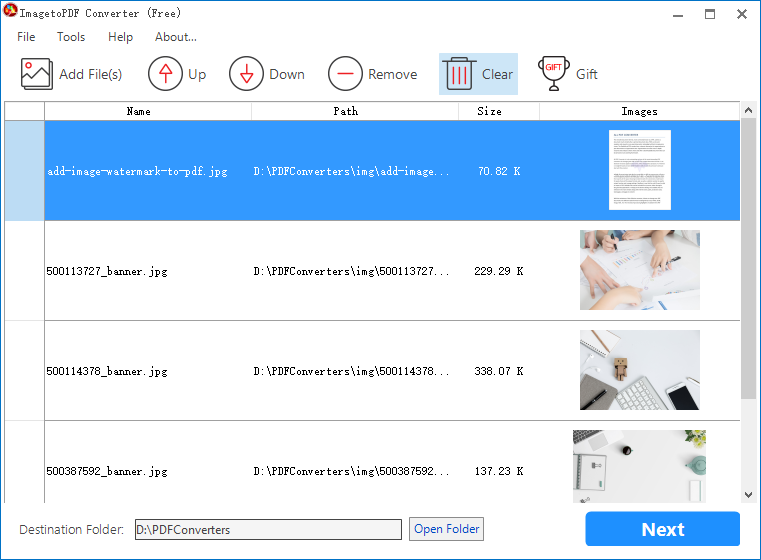 Generating a PDF portfolio is easy. Select one or more image files. If you select multiple files, batch mode will be automatic. Arrange the files in the order of your choice. You may add metadata information such as a title or subject. For added security, consider adding a password. Click on Convert to begin the image to PDF converter operation.
For most general uses, the PDF converter online at Image2PDF.com will do the job just fine. To PDF converter online is convenient and available for PC or Mac users. There is no size limit but you are limited to processing 20 image files at any one time. Just drag and drop your images then click on the upload button. You have the choice to download each image as individual PDFs or combined into one PDF file.
Yes, you can take your picture portfolio with you anywhere. Or show your pictures to friends and family anytime. Save valuable disk space by archiving your large images into compact PDF files. All of this is possible with Make ImagetoPDF Converter as your go to PDF tool. It's packed with professional features yet it's easy to use. You do not need to be a PDF expert to get optimal results for compressed images that retain their quality and clarity. The program has the power and flexibility to be useful for years of image to PDF merger projects.