(Last Updated On: February 7, 2018)
The clock is ticking with fifteen minutes left to the deadline. You have to send an image file fast! But your client is traveling and only have their phone or tablet. The file is too big to send by email. Or is it? An idea forms. You'll change the pictures to pdf then send it. You know your client can open PDF files. The image to PDF converter has to be quick and your image has to look perfect. Here are two ways to get what you need to be done.
ImagetoPDF Converter for Windows delivers crisp, clear results every time for free. Your images can be in PNG, JPEG or BMP formats. Image dimensions can be any size when using this convert images to PDF software. All images will be converted to 300 DPI which is ideal for all digital work. The application works at speed with efficiency and security. This is due to the fact that all processing is done on your computer and only within ImagetoPDF. There are no calls to an external image software or graphical plugins.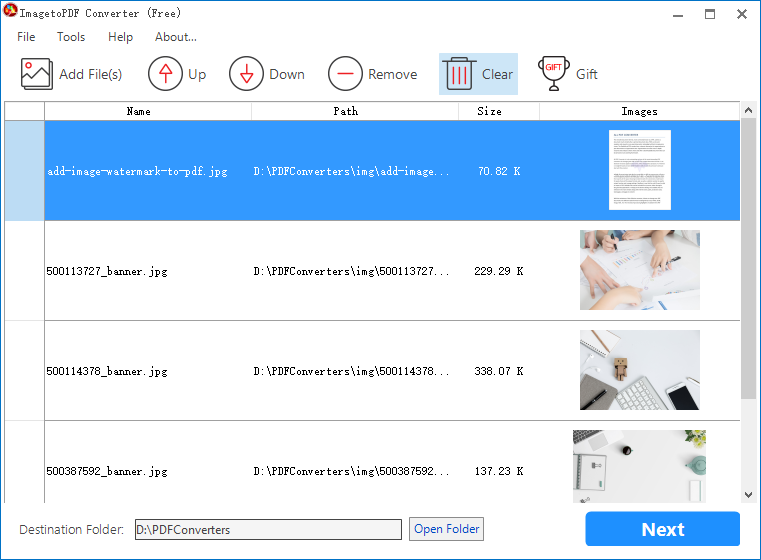 The interface is uncluttered. There's no need to read a manual. First, drag and drop one or more image files into the main window. A thumbnail of each image is provided as a visual preview. Use the Up and Down arrows to arrange the sequence of images. You can specify the location to save the completed PDF file. Click Next. Second, configure the options you need. You can specify a page size. By default, each image will be printed on the page in its original orientation automatically. You can force the printout to either portrait or landscape by choosing either setup. The last option allows you to print each image into a separate PDF file or to combine all images into a single PDF file. Click the Next button to finish. That's all there is to it.

If you prefer a basic image to PDF converter online free option, then look at PDF2Go.com. Upload one or more files to the PDF2Go servers. Click on Save Changes. Processing will begin. You will be notified when the file is available for download. Each image is printed on one individual PDF page. There is no free option to combine all images into one PDF document. Your files are kept on the servers for 24 hours which can be a security risk for business users.
For the best value and performance, ImagetoPDF for Windows is the hands down image to PDF converter winner. Whether casual, educational or business use, the program is packed with useful features. Plus, it can be used worldwide with support for English, Chinese, Spanish, French, German and Italian. Look to ImagetoPDF for the most flexibility and value in convert images to PDF software.