(Last Updated On: February 22, 2018)
LaTeX is of great use for producing technical and scientific documents because this format makes it simple to handle figures, bibliographies, and equations. But when it comes to exchanging electronic documents, you can't always share your file in TEX with others. There is a fact that can't be ignored. Most people around you are not LaTeX users. If you send a TEX file to them, they probably have no clue about how to view it. In another word, you need to convert the file from LaTeX to a commonly used format to ensure the end user can read the file. Needless to mention, PDF is one of the most universal file types for business or personal use. Everyone has a PDF reader within reach to check the file content. In this article, I will walk you through the easiest ways to make PDF from LaTeX on Mac.
TeXstudio for Mac.
TeXstudio for Mac works as an integrated writing environment that is made for any Mac users in order to make full use of LaTeX files with ease. It's a free application that allows you to edit, manage view and compile LaTeX. TeXstudio comes bundled with numerous features like syntax-highlighting, integrated viewer, latex commands reference checking and more. Once the program is launched, you will come face to face with a modern-looking interface, basically divided into three segments. From the left pane, you can work with an array of tools with regards to structure, bookmarks, operator, arrow symbols, delimiters and so on. On the top, you can insert commands and math equations, bibliography entries, macros and manage various edit functions. In the bottom messages section, you can see the compiling process and error notifications.
How to compile LaTeX to PDF on Mac with TeXstudio.
TeXstudio for Mac converts LaTeX to PDF using "pdflatex" command but does not come with the "pdflatex" extension itself. To acquire the extension, you need to install a TeX distribution for Mac OS like MacTeX. When this is done, run TeXstudio for mac.
Step 1.
Drag and drop the TEX file into the program.
Step 2.
Go to "Tools">"Commands">"PDFLaTex".
The TEX file will be compiled to PDF automatically.
You will find the output PDF in the "Recent files" folder.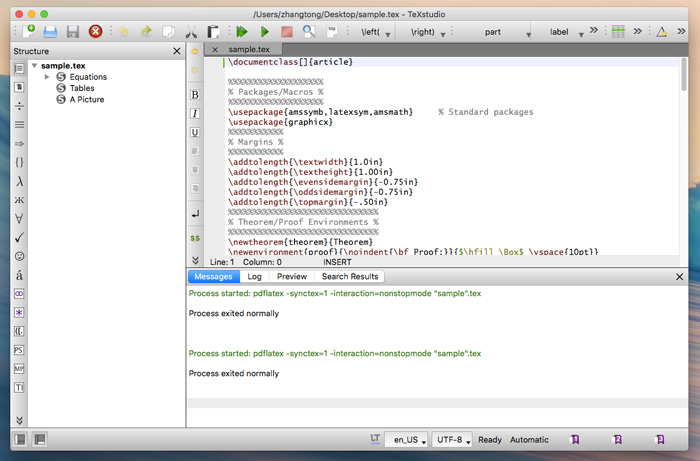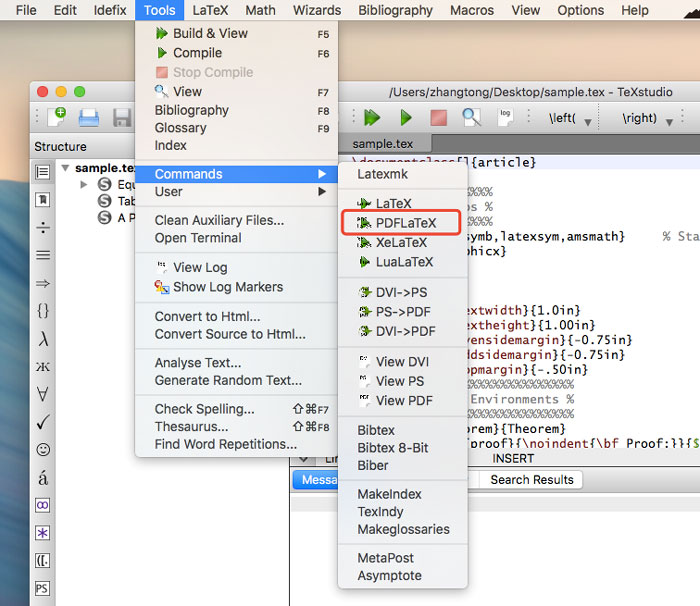 Besides TeXstudio, there is another simple tool called Texmaker designed to help you create PDF from LaTeX in one click. Thanks to the cross-platform compatibility of Texmaker, it is downloadable for Windows, Mac, and Linux. Installing the Mac version and launch the program. Add the file to the program, select "PDFLaTeX" from the command list and press the arrow icon to start compiling.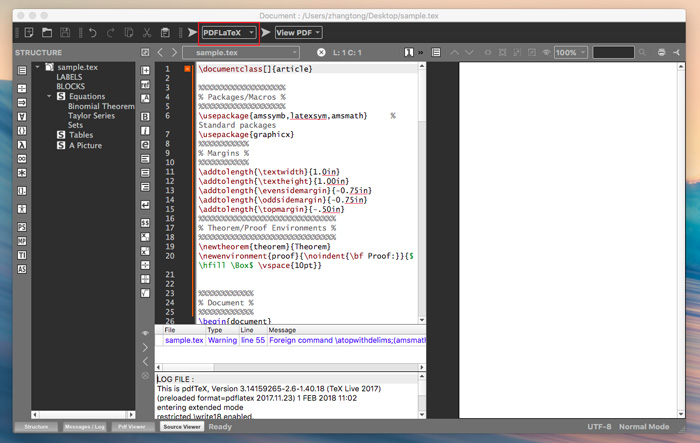 You may want to know how to convert LaTeX to PDF in Windows.
Using the TEX editors is much easier than typing command line to get the compiling job done. If you work with LaTeX, they will be your go-to solution for converting LaTeX to PDF irrespective of any user experience.