I bet this sounds familiar to you. You sent a Word file to someone. When the recipient opened it, spaces between words were missing and all words stuck together. This is due to the cross-version incompatibility of Word document. The incorrect display probably occurs when a word document is opened in an MS Word version with which it was not created. But image is platform-independent. The formatting of image remains same across any devices. So, turning word into image is a good tactic for file sharing. Here, TIFF is a recommended image format to convert Word to. TIFF maintains the clarity of image each time it's amended and saved. There is no loss in quality when TIFF image is printed. TIFF is hard to alter that makes it ideal for information protection. Today's tutorial will take you through several well-performed tools to convert Word to TIFF.
How to convert Word to TIFF file offline or online.
1. DocuFreezer.
DocuFreezer is a Windows application that users can benefit from conversions between different file types like Word to TIFF, PDF to JPG, XPS to PDF, TIFF to JPG. It's developed specially for converting a large number of documents. The process is smooth and the program runs without hitches. Using this program requires no learning curve. A first-time user can figure out how it works with no effort at all. The layout of original documents is well preserved, so the output file looks exactly same as the source one. It provides a free version for personal use as well as a cost-effective commercial version for business needs. All things considered, DocuFreezer is a straightforward utility for helping you transform file formats as easy as winking.
1. Add Word files via file browser or drag and drop method.
2. Click on the downward arrow and select "TIFF" as destination format.
3. Specify the output folder you save TIFF to and Press the "Start" button.
2. iSkysoft PDF Editor Pro for Mac.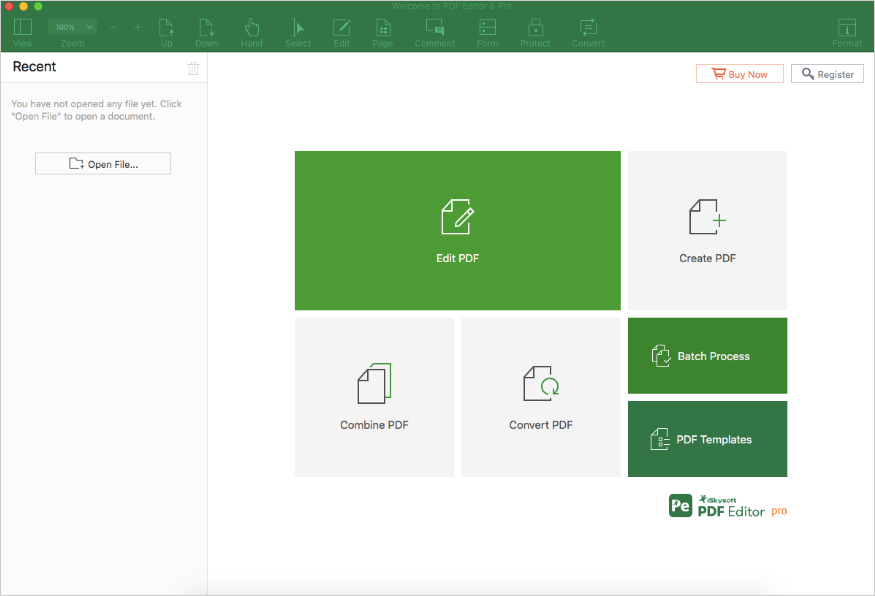 iSkysoft PDF Editor Pro for Mac is an all-around PDF processing tool. This powerful Mac program works as an editor, converter, creator, combiner, protector for PDF. You can edit PDF as easy as you do in Word processor. You are allowed to convert PDF to a wide range of formats and create PDF from images, Word, Excel, PPT and more. It is also possible to merge files in diffident formats into one single PDF. Whatever it's to convert or create PDF, this program keeps original format during conversion. Its PDF compressing causes no loss of quality, making PDFs easy to send via email or upload to site. Another important feature is represented by the possibility to encrypt PDF with password and remove security as well. A leading-edge OCR tech lets you modify or convert scanned PDF in a breeze. Using this software, you need to take an indirect approach to realize Word to TIFF conversion. First, create PDF from Word. Second, convert PDF to TIFF.
1. Drag and drop the Word file to the program.
   The Word file will be opened in PDF format.
2. Go to "File">"Save" to save the Word file as PDF.
3. Click on "Convert PDF" tab and open the PDF
4. Go to "Convert">"To image".
5. Choose "TIFF" as output format and Click on "Convert".
3. Zamzar.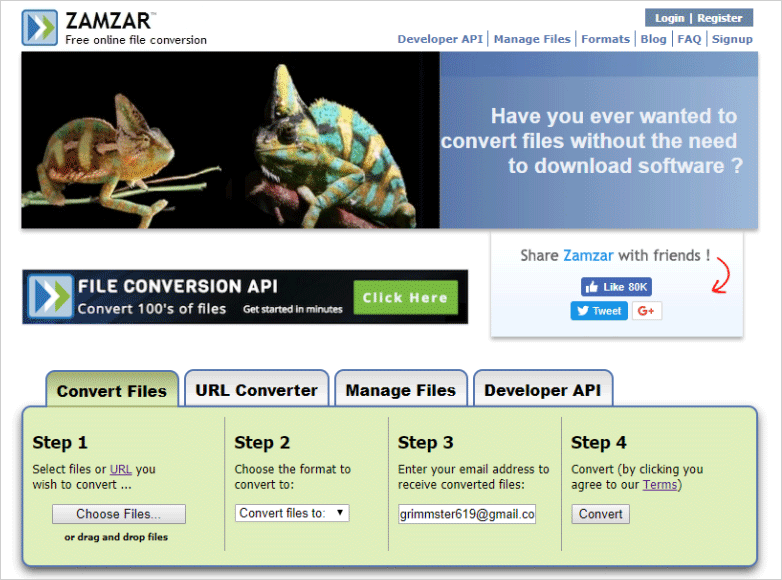 Zamzar is a web-based service that supports 1200 conversions between countless document formats. It is defined as a multipurpose converter that can be used as doc converter, image converter, video converter, audio converter, music converter, or even CAD converter. This utility also offers document storage and management. You can access this feature only if you are a registered user. A massive user base is sufficient to indicate Zamzar is by far the most welcomed all-round online file converter. Belive it or not, the conversion completes in just a few seconds.
1.  Click on "Choose file" to upload the Word file
     Or enter the URL of the file to convert.
2. Pick TIFF in the list of "Image Formats".
3. Type your email address to receive converted files.
4. Click on "Convert" to start and check the output file in your inbox.
You want to save Word file as TIFF in a time-saving way? These tools are just what you need to achieve this goal. Give a shot and you will be amazed at how fast they obtain TIFF from Word for you.