(Last Updated On: February 24, 2018)
PDF file looks the same irrespective of what device it's opened on. This is why we always share the Word document in PDF format. Sometimes, you may want to make the PDF read-only for others and don't want anyone to manipulate it. Thus, you need an image-based PDF, which is uneditable and unselectable. Creating a text-based PDF from Word is a snap. Open a Word file and save it as PDF format. But MS word does not render the assistance to export file content as image PDF. To create read-only PDFs from Word, you need some compact applications to carry out the task for you. Follow today's tutorial and you'll know how to make an image PDF from Word in the most direct ways.
How to convert Word to image PDF with software tools.
1. WordtoPDF Converter.
WordtoPDF Converter explains itself by its title. It's capable of converting Word files to textual PDFs or image-like PDFs as you need. You are greeted by a concise and intuitive interface after launching the program, which allows you to navigate to the options in the main window very easily. This tool offers batch processing so that you can process loans of PDFs at a time. A strong engine ensures speedy conversion. You can expect the whole process finished in seconds. A sophisticated tech brings amazing output quality. The layout of output PDF is exactly consistent with that of original Word file. This easy-to-use utility only requires you a few clicks to perform the whole operation.

How to create non-editable PDF from Word with WordtoPDF Converter.
1. Drag and drop files to the workspace or browse for files by clicking on "Add File(s)".
    Tip: Multiple files can be added to the program at the same time.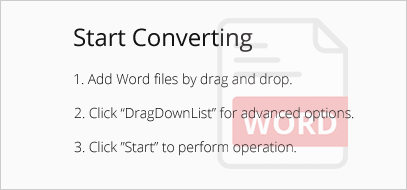 2. Click on the drop-down arrow and choose "to Scanned PDF".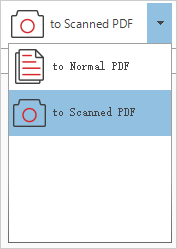 3. Set destination folder for the PDF to create and press "Start:" to start the conversion.


2.  Win2PDF.
Win2PDF is a small but powerful virtual printer that creates standard PDF, PDF/A, image only PDF, XPS, TIFF from printable documents. It comes packed with several useful features. You can merge PDFs by appending/prepending new one to an existing one. You have the choice to auto attach created PDF to new email message because this app integrates with email clients. With the auto-name feature, files can be named and saved to the chosen directory automatically. The naming can be set to include date and time. This tool barely takes up system resources and works smoothly. Due to the simple-to-use operations, it can be handled by both beginners and experts.
How to convert word document to uneditable PDF with Win2PDF.
 1. Launch this software on desktop and open the file to convert.
    Or run this tool by initiating the "Print" option in Word.

2. Select "PDF Image Only-monochrome (PDF)" or "PDF Image Only-color (PDF)."
3. Click on the "Save" button to begin the conversion.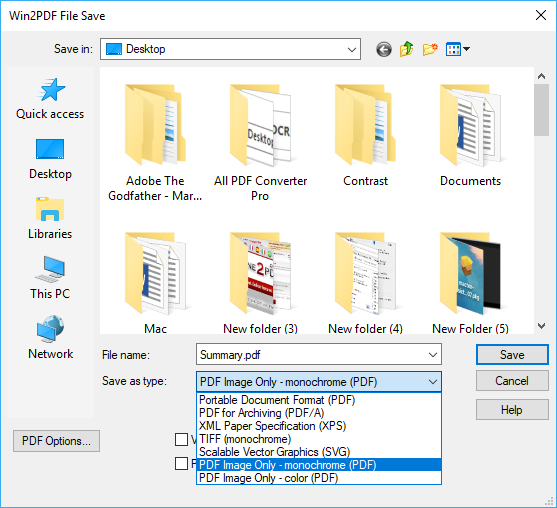 What fast and easy ways to convert Word to image-based PDF. Use the efficient tools to put restrictions on your data and increase document security!