The need to convert Word to PDF arises for a variety of reasons. Word doc may look messy after transferring from one PC to another. But PDF is self-contained and renders the same way on any devices. To produce a high-quality print job, PDF is a better choice than Word. What PDF looks on screen is what you'll get on a physical copy. PDF offers password protection on confidential data whereas Word does not. If you have dozens of Word files, you may want to convert them to single PDF for easy management. This article will present two handy tools to achieve this desired result. With their help, you can turn each Word doc into PDF first and then merge all created PDFs.
Two steps to convert multiple Word documents to single PDF.
Step 1. Create PDFs from Word files using PDF Forte.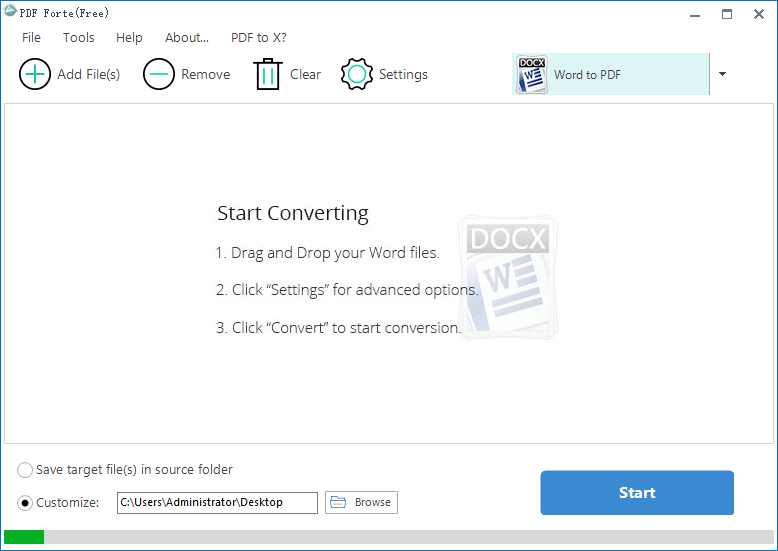 PDF Forte is an all-in-one PDF creator for Windows 7/8/10. It's capable of creating PDFs from MS Word, MS Excel, MS PPT, images, PSD and DWG. It is also able to take Word compatible with eReaders by changing Word to EPUB. You can control page size, margin, and orientation for output PDFs. This app provides PDF security by applying user or owner password as well as editing PDF metadata. PDF Forte ensures that everything from the original document will be retained and shifted to PDF file. With this professional PDF creator, you can batch convert Word to PDF free in a fast way without any hassles.

1. Click on the downward arrow and select "Word to PDF".
2. Click on "Add File(s)" to add files or drag and drop files to the target area.
3. Set output location and press big blue "Start" button".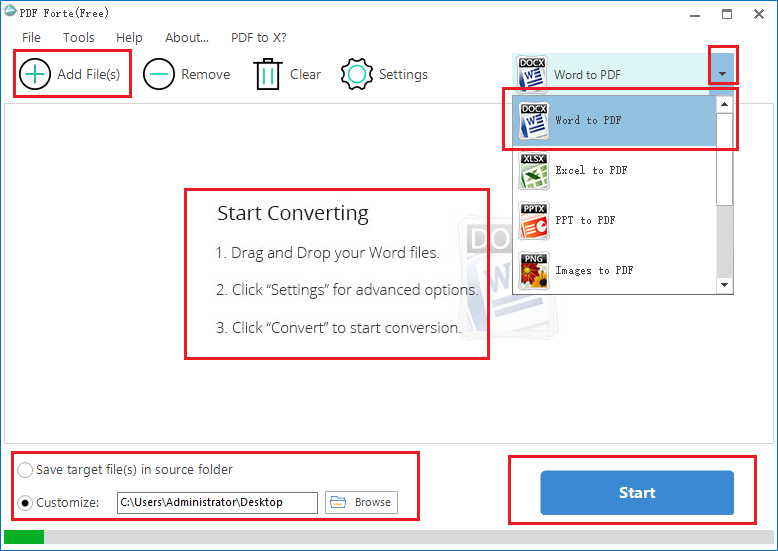 Step 2. Combine created PDFs using All PDF Converter Pro.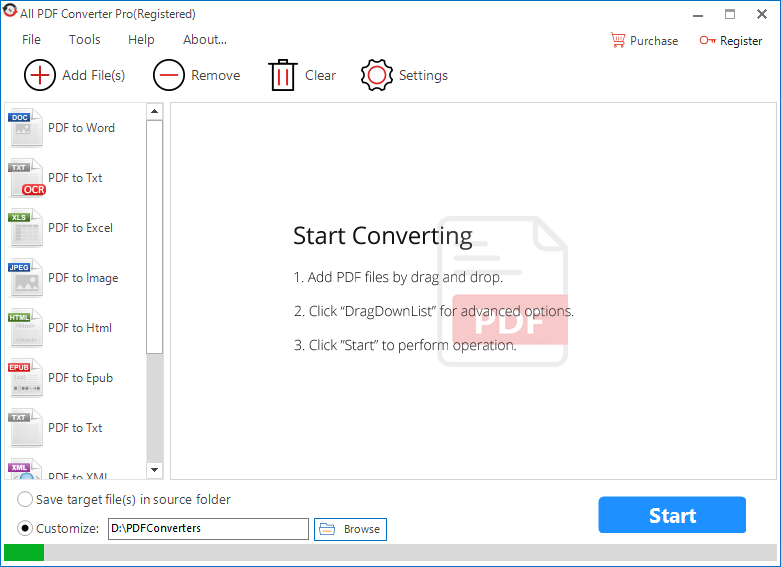 All PDF Converter Pro is a simple but strong PDF converter that enables you to convert PDF to Word, PPT, Excel, EPUB, TXT, HTML, images and XML. This program also comes with the function of combining multiple PDFs into a single one. It has the following features:
Extract text from image PDF or pictures accurately with a leading-edge OCR tech.

The batch mode allows to import all PDFs at the same time and convert them all at once.

Page Selection lets you determine which PDF pages to be converted.

You can choose to create a single file or individual items from each PDF page.

Output files will have the same layout as the source PDF files.

Using this comprehensive PDF converter, you can expect a swift process for merging PDFs in seconds.
1. Click on "Add File(s)" to upload PDFs
    Or drag and drop PDFs onto blank space.
2. Go to the left panel and choose "PDF Combine".
3. Define saving directory and press "Start".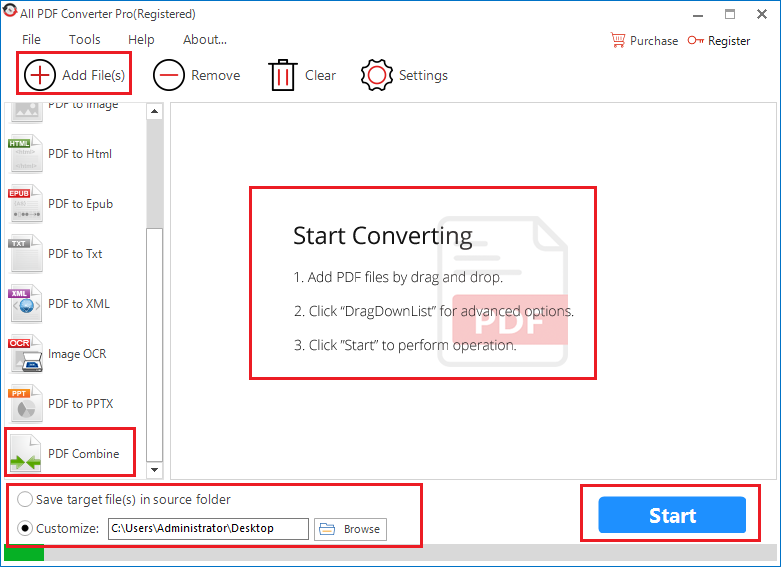 PDF forte and All PDF Converter Pro are a great product portfolio for combining Word documents into a PDF. If you are more interested in a direct way to merge Word files into PDF, Online2PDF is a pretty good choice for you.
Merge Word files into PDF with Online2PDF.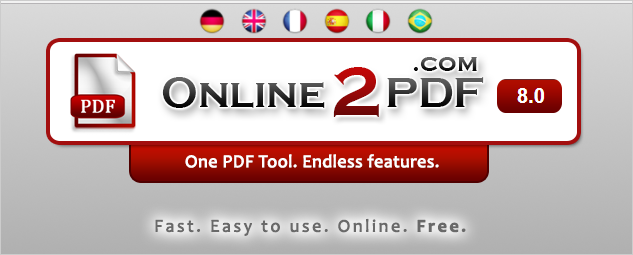 Online2PDF is a web-based tool with which you can easily merge Word files into one PDF, convert to PDFs separately, or even create PDF for each page. It offers many other services like compressing, unlocking and editing PDF documents. Combing Word files to PDF just requires three steps.
1. Press "Select files" to upload Word files.
2. Choose "Merge files" as conversion mode.
3. Press the "Convert" button.
If you have other good ideas for how to convert multiple Word docs to PDF, comment below to let me know.